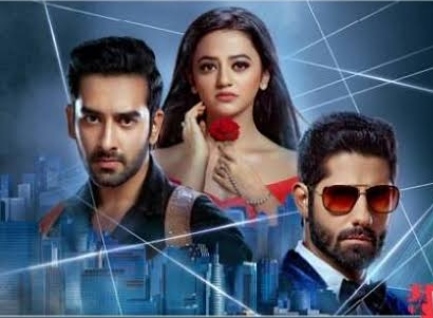 Hello everyone I am back with chapter 10 of our FF Eternal love. But before starting I wish Happy friendship day






my lovely readers. And ya Thanks for the love you all are showing toward my FF.
So let's start the chapter
**************************************
After telling her conditions to vansh Riddhima leaves from his study
Now it's dinner time every including Vansh is sitting in dinning table All are confused to see Riddhima. Dadi ask vansh about it. He introduce her and tells dadi that she is new physiotherapist of Sia. Dadi welcome Riddhima and said that she hopes ki Sia will again able to walk. Riddhima assures her that she will try her best.
Then everyone sit for dinner. Riddhima is going to sit beside Sia just then Ishani said
I : She is a staff. How can she sit equally with us here. Middle class tra….
Before Ishani complete that sentence Sia almost shouted
S : Ishani…. She is not a staff here She is my friend. Treat her like that only. And she can sit here with us with full right.
I : Sia…. Don't you dare to talk me like this.
S : Accha aur tum meri friend ki insult karogi. This is not done. I will definitely not tolerate….
I : Wow…. For this middle class you are arguing with your sister
All this while Riddhima is looking at Vansh with hope but Vansh shows as if he is not affecting by all these. Then Sia going to say but Riddhima Interrupt her
R : Sia it's ok….. Please don't argue with your sister for me
S : But….
Ishani cut Sia in between and said
I : Wow…. Innocent card huh… Mein tum jese log ko acche se janti…
Before Ishani complete they heard a Angered voice
Vo : Shut up you all… This is the way you will talk
They all look toward the voice Ishani said
I : but dadi
( Jaldi batao sab kis kisne socha tha ki Vansh ki voice hai )
D : Enough Ishani… This is not the way to talk with someone like this. She is Sia's friend and she will stay here as her friend. If you can't respect her as Sia friend then atleast respect her as doctor. She will eat with us everyday. No argument. I want no argument in this.
Riddhima become emotional she said
R : Thank you mam
D : beta you are Sia's friend na. For me you are like Sia so call me dadi.
Sia smile. Riddhima noded. Chanchal and Aryan give expression
. Ishani become Angry but she cannot say anything. Rudra has nothing to do with her. Anupriya is not sure about this girl. And Vansh all know he is arrogant and when it comes to Riddhima he show himself as double arrogant, as he didn't give a damn to all these.
After that they all eat their breakfast and goes to their respective room.
After some time Riddhima comes to Sia room. Sia ask her the reason to come in her room. Riddhima shows her oil bottle and said her to massage her legs everyday before sleeping. Sia takes bottle from her. Then they bid goodnight to each other.
Riddhima goes to her room. Change in night clothes. Then she ordered a new phone so that she can call anyone without affected by jammer.
Then she sleeps think about whole day incident.
Vansh in his room talking to someone on phone
M : Sir he is not opening his mouth .
V ( cold expression) : torture him more (Anger is clearly visible)
M : Sir his condition is become worst by our torture now. He is not opening his mouth so we can kill him na
V : No uuse Marna nahi hai Tadpana hai hai….. Is that clear
Then he cut the call. After that he changed in casuals then sleeps thinking about today's incident.
Next morning Riddhima wake up and goes for bath then after drying her hair she get ready and goes toward hall.
Riddhima is wearing Red kurta which has golden colour work on it. She is looking like not less then a Princess. Her hair is open. With golden earrings and golden pendent.
(Koi bhula to nahi na ki uske pas ek golden pendent bhi hai). ( and ya I hope I described Riddhima's look well.)
Riddhima come to hall and wish everyone good morning and take Dadi's blessings. Dadi praises her beauty.
Then she ask dadi
R : can I light diya and do puja
D : Isme puchne ki kiya baat hai
Ishani again going to say something but Anupriya stops her.
Then Dadi said everyone to come on mandir. Vansh is not present so Riddhima aske about it. Dadi tell her that Vansh didn't believe in god. Riddhima look toward Sia. Sia just noded in yes. Riddhima take a sigh.
Riddhima light diya and does Aarti after that give prashad to everyone.
Then Sia asked Dadi that, Can Riddhima make sweet dish. As she want to something made Riddhima. Riddhima look toward Sia . Sia assure Riddhima. Here Ishani is not able to control. She started to insult Riddhima .
( You all know Ishani's nature right)
Dadi scold Ishani. Then turn to Riddhima said
D : Beta jao aur jaldi se kuch meetha banakar lao. I want to taste the food of your hand.
Then Riddhima goes and started making kheer.
Everyone is sitting for breakfast waiting for Riddhima. Till then vansh also come their and sit on his chair.
Then Riddhima comes with kheer. She first kept bhog in front of God and serve to everyone.
Vansh ask dadi
V : why she make kheer
D : Sia want to eat some sweet dish made by Riddhima.
Everyone eat kheer. They all like it including vansh. All praises her but vansh is arrogent to praise her. Dadi goes to her room and come with box. She give to Riddhima and said
D : this is for you….. You maked very delicious kheer.
Riddhima open the box and see a beautiful payal She said to dadi ki it's not needed but dadi force her keep it. She become emotional. Her eye becomes moist. She look at Vansh. Vansh face is all blank , then at Sia. Sia assures her to keep it.
Riddhima agreed and take Dadi's blessings.
**************************************
So how was the chapter. What do you think to whom vansh said to give torture and for what.
Do tell me what do you think about Riddhima's first day at VR Mansion.
I will come with next chapter soon till then STAY TUNED
STAY SAFE AND HAPPY
Again HAPPY FRIENDSHIP DAY TO ALL MY READERS.
The post Eternal love (Ishq mein marjawan 2 FF) Chapter 10 appeared first on Telly Updates.