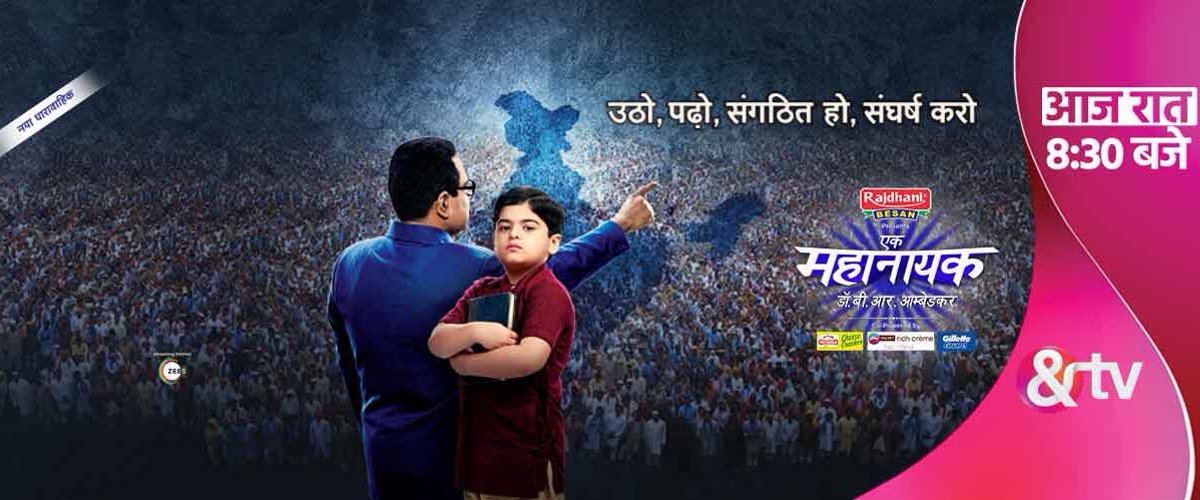 Ek Mahanayak Dr. BR Ambedkar 21st July 2021 Written Episode, Written Update on TellyUpdates.com
The episode starts with Ramji recalling of a memory when a man refuses Ramji's denial to have Bhim Rao married to her daughter. Ramji wished for the daughter's best future but because he has selected an orphan who has no home, she us poor and needy. Ramji said that the man can marry off his daughter anywhere, but Ramabai has no one for herself. Jijabai was against Ramji;s decision. The man said that Ramji was making a mistake, Ramji was persistent on his decision he wanted a someone in Bhim Rao's life who would not create hurdle in his path. Ramji paid him in compensation for the money he spent for the wedding.
The people agreed with Ramji decision for having Ramabai as Bhim Rao's wife.
Ramji complaint that Jijabai's behaviour has yet not changed For Bhim Rao. She replied that Bhim Rao has not change for her as well. She does not support Bhim Rao, has never and will never. Ramji questioned when her ice would break for Bhim Rao. Jijabai has no issues with any other child but concerning Bhim Rao she has grudges because her husband refuses to believe her. Jijabai left.
Ramabai said that she will not stand for justice, only for her husband. Bhim Rao said that justice was supreme, above all, and those who stands for it can fight the worst. Ramabai has to take lice out of her hair. Bhim Rao was shocked. She said that he would understand if he had long hairs. Bhim Rao combed her hair. Ramabai asked Bhim Rao to be make time for her, no matter how busy he gets.
Manjula greets Meera, she was glad to see her. She asked her to send her give Tulsa her message to come meet her. Jijabai mage pickle for her. Anand's wife was pregnant, she needed the pickle more and take care of herself. Jijabai said that she tries to take care of herself, but she has a lot of burden on herself because Ramabai's knows nothing. Anand's wife was afraid of the disasters Ramabai creates while cooking. Ramabai said that she has been trying and learning, one day she will be able to do her best. Jiajbai taunted her, asking her to make Bhim Rao understand that this house can not afford his expensive education. Anand came, she took Manjula to drop her off.
Meera asked Ramabai not to take Jijabai seriously. She said that after becoming an orphan she has always wanted someone to scold her like Jijabai.
Ramji wanted to drop Manjula herself, he had something to talk to her about. She asked for a loan from her daughter. He had to pay for Bhim Rao's education. Bhim Rao said Manjula farewell. Manjula gave Ramji her gold chain, she did not want Bhim Rao to know about it. Ramji took the umbrella from Bhim Rao, he asked him to see off her sister.
Meera asked Ramji. He replied that Manjula took the gold chain off her neck, she did not want him to know.
At night. Bhim Rao was studying while everyone else was asleep. Ramabi woke up to check on Bhim Rao. She whispered in his ear, asked he was able to hear voices of owls, dogs and cats. Bhim Rao said that they were all asleep now. Ramabai said that why was he awake than? He replied that some books require deep concentration. Everyone in college thinks that Bhim Rao cannot study this chapter thus he will work for it more. Ramabai did not understand.
Next day, in college the professors challenged Bhim Rao, by completing that no one would have any issue with Bhim Rao studying with the upper caste. Bhim Rao refused. He complained that the professors have no arguments against him. Professors did not want his lecture, he said that in order of Bhim Rao to study with everyone else he would have to perform the pooja otherwise everyone would protest against him. Bhim Rao refused. He was asked to leave, Bhim Rao left.
Bhim Rao's friends asked that would he leave Science.
Update Credit to: Sona
The post Ek Mahanayak Dr. BR Ambedkar 21st July 2021 Written Episode Update: Manjula gives her Gold chain. appeared first on Telly Updates.