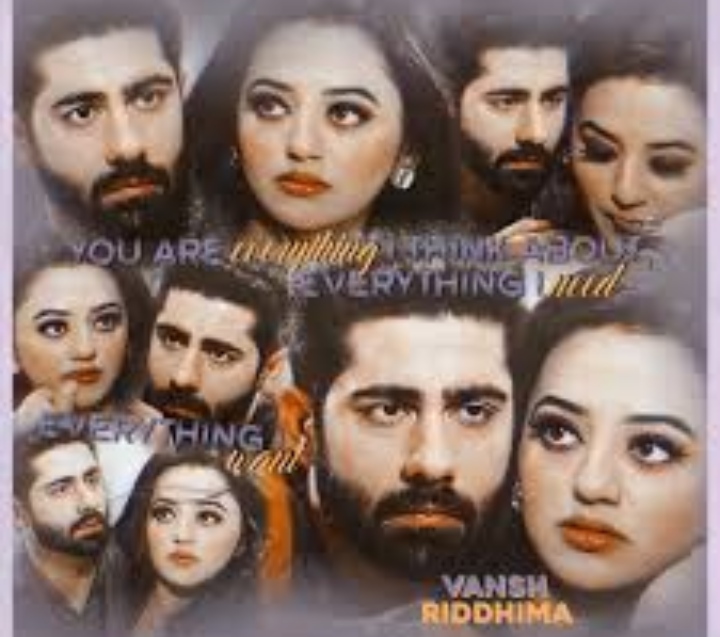 Don't mind this is some trash in my head and this thumbnail is not mine. I don't even know why I kept this title..let it be. Read now.
(A Very Random OS, I wanted to write about it and I did so.)
Riddhima and Vansh were in their room all changed, and ready to sleep. Riddhima placed her pillows on their place and saton the bed. She was busy admiring her husband who was busy with his so-called second wife, Business.
Vansh… Riddhima tried to be as sweet as she could. The innocence in her voice enough for Vansh to stop his work. He closed his laptop with a thud and jumped on the bed. Placing his head on her lap, while she moved her fingers between his hairs. This relaxed Vansh totally and he sat again coming closer to her lips. Riddhima also came closer but something struck her mind and she pushed him, such force that he was laying down on the bed.
Uhh ..Riddhima. Now what was this for? Vansh asked sitting back again.
Because I am pregnant. I don't want these stuff.  Riddhima replied calmly.
Vansh laid down on his place, looking at Riddhima who was laying down closing her eyes. She peeps and sees Vansh looking at her.
What happened? Riddhim asked smiling.
Just thinking how much do you face…Said Vansh.
Oh ho Vansh, it's common. After a time I will get used to it. Riddhima said to him.
But I have heard it pains very much? Vansh became a little serious.
Yes I pains, can't say very much or not. Why are you so serious? Accha listen na. I want some dark chocolate. I have heard it reduces stress…oh god I need it. Riddhima said in a breath.
Vansh stood up and left the room. Riddhima fell silent and slept.
Next morning
Riddhima woke up and saw Vansh sleeping next to her with his hand on her waist. Riddhima smiled at him and went to get freshen up.
After getting all ready, she woke up Vansh and went downstairs. Vansh sat on the dining table and Riddhima kept the plate with a thud. Vansh kept looking at her while she was glaring at her.
Vansh: What?
Riddhima: What? You just eat and go to work, I stay in the house being bored and alone. You don't even let me go for shopping without you. Now what will I do the whole day?? I thought yesterday you went to bring chocolates for me. But you? Came back as you went.
Riddhim took a breath after saying all this while Vansh's was looking at her with his mouth open. Riddhima took a morsel and put it in his mouth and left angrily. Vansh chewed it for a while and started looking for water. Riddhima came with a water bottle and gave it to him. Vansh drank it.
I am sorry. Vansh said trying to be as calm as he could. Riddhima smiled and hugged him back.
Is it paining? Vansh asked. Yes.. Riddhima replied softly.
Vansh picked Riddhima in bridal style and tucked her in the bed softly. He kissed on her forehead.
I will try to be back soon. Ok? Vansh asked her.
I heard you said it's important, take your time. Riddhima said.
Vansh's POV
I came to have my breakfast as I had an important meeting. I saw Riddhima kept the plate loudly and blabbered to much in one breath that I heard only 3-4 words. I was so lost looking at her that she put something in my mouth and I realised after it was in my mouth. She left and I started chewing it. What the hell! I thought she gave me breakfast but it was a spicy chilly! I was looking for water as calm as I could and she came up with a bottle. I drank all up and remembered…it's her. I have heard it's the most..don't know..mood swing I think. I calmly apologized her and she hugged me. I knew she was having mood swing so I took her and tucked in the bed so she could sleep and have rest. Now shhe got senses that I have a meeting and I need to go. This girl is tough to understand.
So I came back at home as soon as I finished my work. It was 6. I reached home and I think I shouldn't have. What the hell is she doing!!!
Vansh's POV
Riddhima was sitting in Vansh's clothes and watching a movie with Siya and Aryan while eating her dark chocolate and popcorn together. Vansh headed to the kitchen and there were popcorns all over. He came back to the hall.
Vansh: What the hell have you did!!
Siya and Aryan stood up instantly while Riddhima laughed watching the movie.
Vansh: Riddhima, go to our room now.
Riddhima chuckled again watching the movie and was smiling like a kid which made Vansh smile.
Siya: Bhai woh… bhabhi wanted popcorn. She was crying! So I and Aryan Bhai did what we could.
Aryan: Yes Bhai, she was crying like a kid! She kept weeping and was running here and there. And mom and Dadi also went to the temple.
Vansh: Fine. Next time take some help from youtube.
Riddhima: Vansh you came back!!
Riddhima jumped on him and entagled his legs on his waist.
Vansh: What was that Riddhima! What would happen if you would have fallen down?
Riddhima: Simple. You would have picked me up than.
Siya: Two more people are standing here…
Riddhima stares at them and gets down. She puts her hand on her waist and looks at them.
Riddhima: So MORE PEOPLE, you can leave for your room.
Vansh: Riddhima I am hungry.
Riddhima: Me too. Let's have strawberry. Yes. I want strawberry right now.
Aryan: Bhabhi it's monsoon! Strawberries come in winter.
Riddhima: Monsoon or Summer. Don't you know? He is VANSH RAI SINGHANIA. And he can do anything for his wife, hai na Vansh?
She turned to Vansh. He nodded in no and she came near him.
Please….
Riddhima comes near him taking big steps one by one. Vansh again nods in no.
Please….
Vansh nods in no and Riddhima pushed him.
Riddhima: Don't talk to me till you get me strawberries, and don't you dare enter the room!
Vansh being Vansh. He didn't bothered and was on his point of not getting strawberry. He slept on the couch in the hall.
Next morning Riddhima woke up, not finding Vansh near him he saw him on the hall on the couch. She climbed upon him like a baby and started crying.
Vansh woke up and wiped her tears.
Vansh: What now?
Riddhima: You slept here because of me. I don't like it. (Sobbing)
Vansh took Riddhima in bridal style and they slept cuddling with each other….
So how was this peace of trash? Do tell in the comments and I am very not-in-the-mood since yesterday but will post my FF soon.


Tanvi

The post Dark chocolate and strawberries- RiAnsh OS appeared first on Telly Updates.