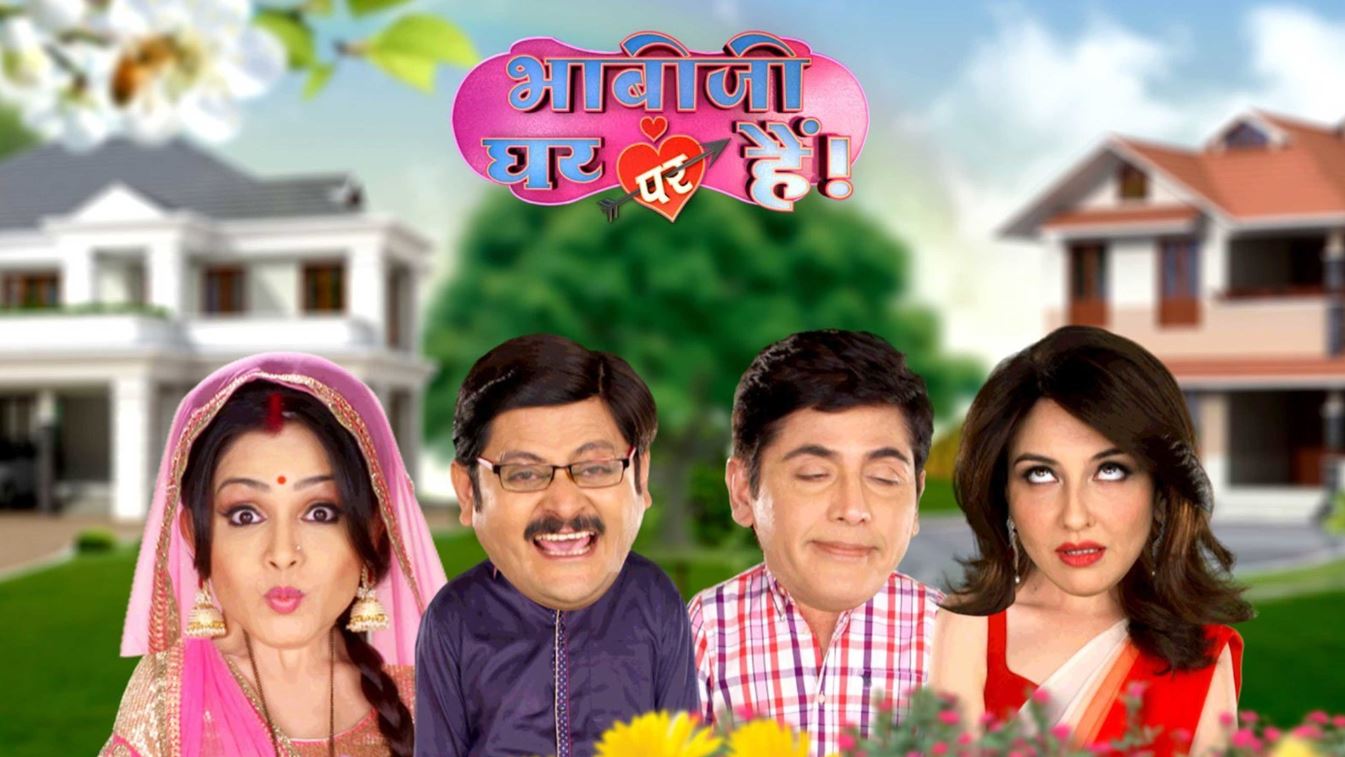 Bhabhi Ji Ghar Par Hai 8th July 2021 Written Episode, Written Update on TellyUpdates.com
Tiwari in his bedroom shouting in pain. Angoori come and says what happen you were in bathroom from so much time it didn't help. Tiwari says it was of no help. Angoori says what about medicine that Gupta gave is there any help with that. Tiwari says it was also of no help. Angoori says now I'll not listen you, you have to go to Vibhu, he is curing many people he will do treatment of yours too. Tiwari run towards bathroom.
Vibhu slaping Saxena and says here is your payment with advance, if you do overtime I'll pay you later. Saxena says I'll take double of overtime. Angoori come with Tiwari shouting Vibhus name. Anu watching from above. Angoori says Tiwari is in lot of pain. Vibhu says I'll cure him I'll remove his pain along with his stomach. Tiwari says he will take revenge in name of treatment. Angoori says he is doctor he will not do anything he will cure your pain, and says start his treatment fast. Anu watching them from above says why Angoori bring Tiwari to Vibhu for treatment, she is supporting fraud. Vibhu makes Tiwari sit in chair and says to Angoori he is serious we have to give him 25 slaposprin. Angoori says what are you waiting for do fast. Vibhu start slapping Tiwari and punching after treatment Vibhu ask Saxena to give him water. Angoori says you did great treatment how much for your work. Vibhu says to Angoori what I'll take from you and goes to Saxena says charge him double. Saxena says to Tiwari the total comes out for you payment 8840rs.
Anu in her bed, Vibhu come and says to himself look at my wife how she is sleeping alone without me but she looks hot while sleeping it feels she will wake and and look into my eyes and start insulting. Anu looks at Vibhu and shouts thief. Vibhu wakes up and says I'm your husband not thief. Anu says what are you doing in my room, listen Vibhu our tracks are different. Vibhu says I know we have different tracks but one track we have same which is track of romance. Tiwari in his bedroom with Angoori saying this is fantastic, I swear I felt so miserable I thought I'll be bedridden for atleast two weeks. Angoori says credit goes to Vibhu's hand that he cured you completely. Tiwari says his remady worked well but human immune also work in this case. Angoori says your immune system was dead already and in this type of pain you remember you parents only. Tiwari says fine but I'm alright now. Angoori says yes Vibhu did you alright. Tiwari says did you took any debts from Vibhu why are yoi taking his name and praising him all time. Angoori says whenever you are in pain I get panic and if any animal will cure you I'll praise them too, Vibhu is atleast human being. Tiwari gets romantic says how much you care for me I love you and they both gets romantic.
TMT sitting together having drinks. Malkhan says Vibhu has magic in his hand. Tillu says there is no magic in his hand he is just fooling people. Teeka says you won't understand. Tillu says what should I do I didn't go through. Teeka and Malkhan start shouting at Tillu. Tillu I hope I don't get sick but if I get I'll not go to Vibhu because i know he is making fool out of people. Gupta standing outside listing and start barking and crying from outside. Teeka says I saw in Hollywood movie whenever dog howl something ominous happen something terrible. Malkhan says I heard from old folks that when dog howls someone dies. Tillu gets panic and says lets make that dog run away and TMT leaves. Gupta come and mix something on food. TMT come and Tillu stomach start paining and says I don't feel good lets go to Vibhu. Teeka says forget him we will go to doctor. Tillu says lets go to him.
Anu doing jogging. Tiwari come and greets her. Anu ignore him. Anu says I want to say something to you I'm very upset from you. Tiwari says what I did wrong. Anu says you are our NGO member and you took swear that you will drive superstitious and blind beliefs out of our community but then what i see you are taking treatment from Vibhu. Tiwari says no medicine was working on me and why are you getting angry on small things. Anu says small thing, in your word go from here and leaves. Tiwari says what should I do now.
TMT, Saxena and Vibhu together. Tillu in chair saying to Vibhu what are you doing doctor you curing me or taking revenge. Teeka says he is not rude it feels like he is taking revenge. Malkhan says but in night time you will feel great. Tillu says I have never seen anyone cure s person with kicks I'm shocked. Saxena give him water says drink this and relax you will be alright and ask for fees. Teeka says yes I brought cash 4420rs. Masterji come running says to Vibhu I need your treatment. Vibhu says I cannot treat you. Teeka and Malkhan start shouting on Vibhu why cant you treat Masterji. Saxena says boys try to understand this treatment do not work on teacher. Masterji says why I don't work on teacher am I not human. Saxena says I cannot see him in pain and says to Vibhu please cure him. Vibhu says to Masterji ok lie down here I'll give you treatment.
Commissioner on phone talking to his sister-in-law and says I'm not Rusa bodyguard shouts on her and have ngs up. Manohar says if you sister-in-law want any service of mine do let me know. Commissioner says the service you are giving is enough. Prem come and I was passing by and was feeling thirsty so come here to drink water. Commissioner get a phone call and Prem mix something in his food. Commissioner hungs up phone call and Prem says I'm leaving. Commissioner says why did this guy came and then he went away. Manohar says he is useless man, you should eat. Commissioner says I'm having pain in my stomach, call doctor. Manohar give call to Gupta. Gupta standing in police station says doctor is here. Commissioner says I'm having acute pain in stomach. Gupta asks are you having pain here and says you eat something bad, I'll give you medicine you will be alright.
PreCap
Vibhu beating Master with stick. Anu come and says dont you feel bad beating Master with stick. Vibhu says I'm treating him. Anu says no problem commissioner is coming here and will ask you yo got out. Commissioner come and calls Vibhu

Update Credit to: Tanaya
The post Bhabhi Ji Ghar Par Hai 8th July 2021 Written Episode Update : Anita upset with Tiwari appeared first on Telly Updates.