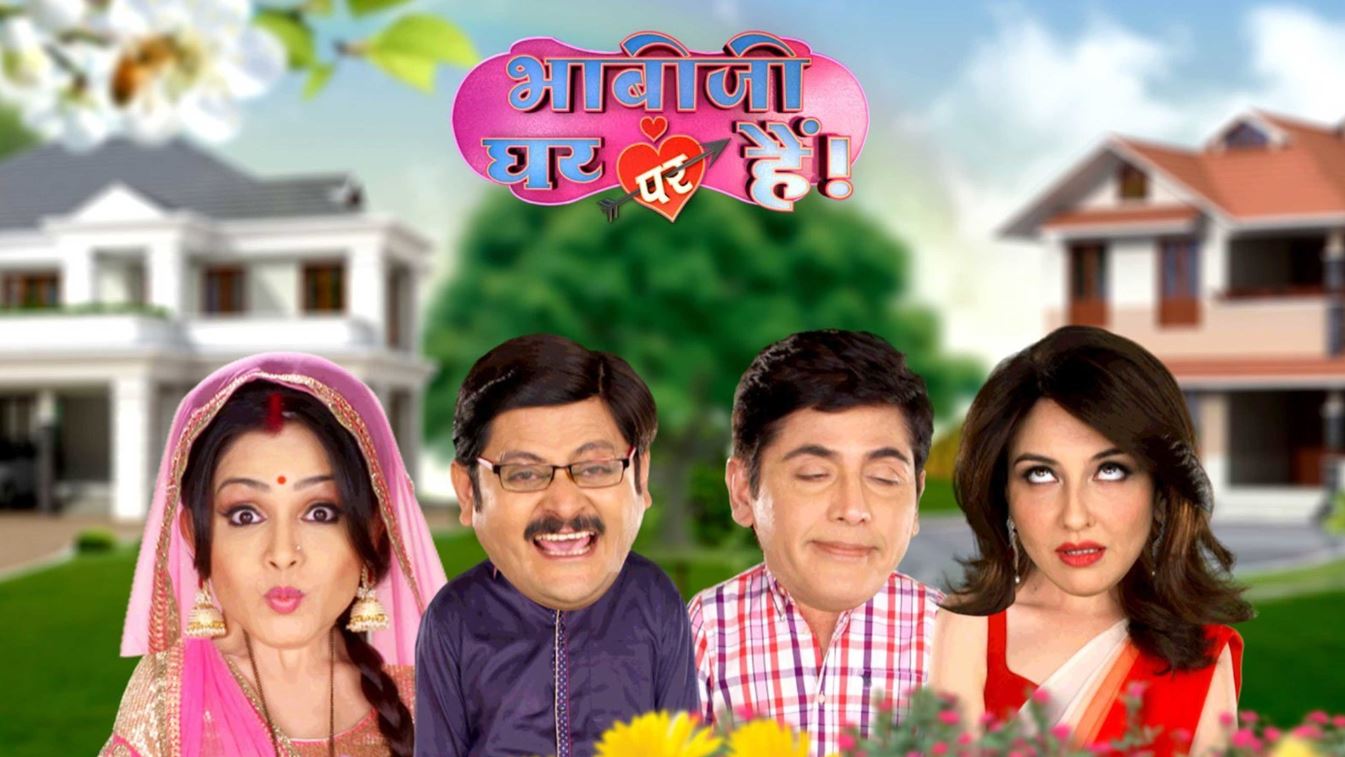 Bhabhi Ji Ghar Par Hai 15th July 2021 Written Episode, Written Update on TellyUpdates.com
Tiwari on sitting on sofa and says to Angoori only 70rs of 2lakhs I thought Vibhu is naughty but your partner is one step ahead of him. Angoori says Vibhu is my partner. Tiwari faints, and says you are doing business with that unemployed person he has degree of making fool out of people. Angoori gets call from Ammaji she picks and greets her. Ammaji says I'm okay but why are you crying. Angoori says Tiwari is saying me to shutup. Ammaji says put phone on speaker. Tiwari greets her and Ammaji says what happen why are you saying her to shutup dont you know I thought you to speak, how will you remember you were only 2 year old at that time. Angoori says to Ammaji you don't take tension Tiwari just scolded me with love everything is fine. Ammaji says what he said. Angoori says he said I'm fool I don't have brain but that was with love. Ammaji says I'm also saying with love if Angoori gets any trouble from you I'll teach you a lesson and hungs up phone. Angoori says milkman was asking for 70rs. Tiwari shouts on her and Angoori run away.
Vibhu sitting in sofa and Anu come ask hows everything going on. Vibhu says we are trying its like a kid it will grow it will take time. Anu says I cannot see confidence in you. Vibhu say's I'm trying if it will not rain then that's not my fault, we are trying. Anu says why can't I see your trying you what Vibhu I can see your excuses I should give you divorce I cannot handle this anymore.
TMT sitting and having drinks. Vibhu says to them the way we are selling Umbrella I don't think we will be able to sell till next season. Malkhan says you are trying to do our moral down. Tillu says don't worry everything will sell. Tiwari come and says thankgod you meet us come give me my money. Vibhu says what money. Tiwari says the money which I gave to Angoori to keep and you took from her. Teeka says to Tiwari talk yo our boss with respect. Vibhu says excuse me Mr. Tiwari listing first thing I took money from her she is not child she is adult and I took money from my partner who are you. Tiwari says that partner is my wife and I want my money. Vibhu says I invested that money in business and the cash is rolling I'll return you your money. Tiwari says but I want that money back because I want to give someone. Tillu says my cheap boss if you want to return that money so early then why did you give. Vibhu says my employe is right and tell that person he will get his money back. Tiwari says Anu will not wait I took money from her by saying lie and he realised what he said to Vinbu. Vibhu says you took money from Anu and gave that money to Angoori it was me or you would have lost that money. Tiwari says but I want my money back now. Vibhu shouts on him and says if you said anymore word I'll go and tell Anu everything and you spend that money in drink and gambling. TMT and Vibhu start continuing there part. Tiwari says make one glass for me nobody listen to him he shouts and leave. Vibhu says well done boys and cheers.
Vibhu come to his bedroom calling Anu. Anu throws pillow into his hands and says please go from here I don't want to see your face. Vibhu says my mind is good and want to see your face. Anu says should I break your head, I don't want to talk to you. Vibhu says should I talk romantic. Anu says oh please with your romance we will not get butter on bread or panner or ring to wear in fingers. Vibhu says but you'll get love I'll not leave you. Anu say's what you'll do. Vibhu says I'll sing song and start singing. Anu goes to sleep. Angoori singing song for Tiwari trying to make everything right between them. Tiwari goes to sleep.
Angoori talking on phone with Bimla in kitchen and saying I got Umbrella would you like to buy and will give you sweets too made from my hand and trying to sell her Umbrella. Vibhu come and greets her. Angoori says please return my money or I'll be out of my house. Vibhu says same goes with me dont worry or else we both will be out and start flirting with her. Angoori says this is my life's biggest mistake that I kept faith in you. Vibhu says what are saying. Angoori ssys I don't care you just return my money as early as possible or else Tiwari will not leave me. Vibhu says I'm trying. Angoori says make it happen or else our friendship is ruined, go I don't want to talk to you. Tiwari says ok I'm going and Angoori says lets call Sheela and try to sell her Umbrella. Sheela abuses her and hungs up phone. Tiwari come to Angoori and say Anu is coming this side if she ask about me tell her that I'm not in house gone out of town for some days. Angoori says then you'll not meet me too. Tiwari says I'm not going anywhere I'm in house, first I'll make you pay 2lakhs rupees and gies. Angoori gets scared and says while crying who will I call now.
TMT shouts from there stall come and take Umbrella. Teeka shouts buy one and get one umbrella free. Masterji come and says say one more time. Tekka says buy one and get one umbrella free. Masterji says don't give chocolate then. Tillu says we also have dignity and self respect we also have to go hevan and show our face to god. Masterji says okay give me 3 Umbrella and give me free Umbrella too. Tillu says when we said you no to give free umbrella but first you have to complete our terms. Teeka takes out the sign board "complete our terms and get free umbrella". Masterji says why didn't you told first this is sheer dishonesty I'll not leave you. Teeka says its written on board you will get free umbrella when you complete our terms. Masterji says tell me what are your terms. Malkhan says first term is you have to give us free food and drink for one month. Tillu says second term is you have to book a dancer for us because we didn't saw dance from many time. Teeka says third terms is that you have to adopt one of us. Masterji goes. TMT start shouting. Vibhu come and Tillu says we got good news we sold 10 umbrella from morning. Vibhu says you should be ashamed of you that you only sold 10 Umbrellas from morning. Teeka says it's startup it will take some time to grow. Vibhu says we have to think something of I have and idea, why we are not able to sell umbrella because people know that it will not rain so we need to tell people by deceit that it will rain this time and will rain heavily after listening this they will come out and buy umbrella.
Teeka in Gupta's clinic says operation is the last stage. Gupta says what is your problem. Teeka says I'm seeing scary dream, Malkhan standing outside Gupta's clinic window with speaker. Gupta asks what kind of dreams. Teeka says like I'm locked in dark room and all of sudden I hear thunder then I come out of my room and says its raining heavily and I'm getting wet and I need Umbrella. Gupta says you might have seen this dream at midnight and those dreams are not true. Teeka says its not possible I know this will be true. Malkhan start playing thunder sound on speaker. Teeka says hear it how loud it is. Gupta hear again and says you started your Umbrella business are they sold. Teeka says yes all or sold we just kept 3-4 for us if you want we will sell you. Gupta says no I don't want it will not rain this time. Malkhan plays thunder sound and make it rain through pipe. Gupta says give me one umbrella how much its is. Teeka says 1000rs. Gupta says give me.
PreCap
Anu and Angoori talking to eachother. Anu says he got bad luck everyone heard that it will not rain this time. Tiwari listing to everything behind sofa comes out crying.
Vibhu talking on phone with Prem. Prem says I'll not buy your umbrella because it will not rain this time, prem hear thunder storm and see its raining, ask what's happening. Vibhu says its thunder you are hearing.
Update Credit to: Tanaya
The post Bhabhi Ji Ghar Par Hai 15th July 2021 Written Episode Update : Vibhuti's trick to sell umbrella appeared first on Telly Updates.