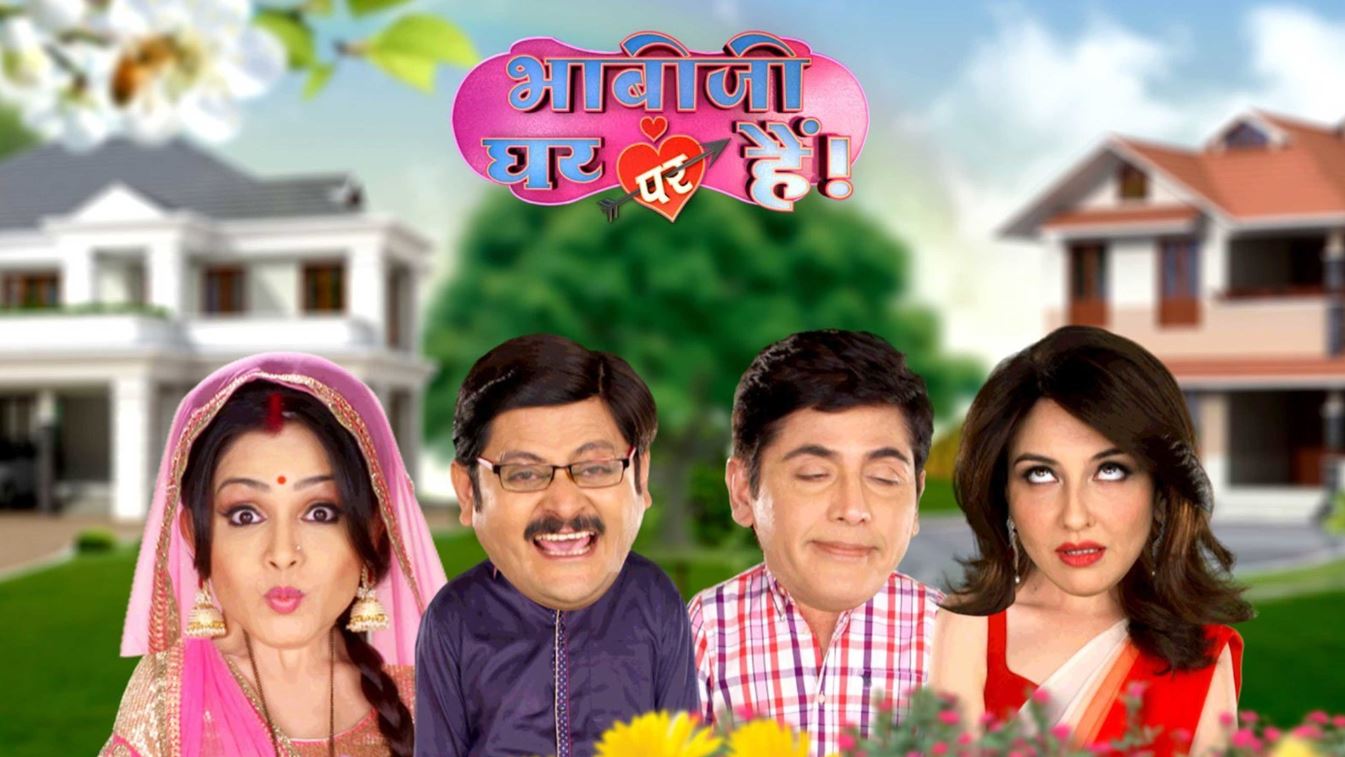 Bhabhi Ji Ghar Par Hai 12th July 2021 Written Episode, Written Update on TellyUpdates.com
Angoori in kitchen cooking food Vibhu come and says poem and flirts with her. Angoori says I don't understand what all you say its always complicated. Vibhu asks what are you cooking. Angoori says Tiwari was telling it feels like it will rain so cooking pumpkin pakoda for him. Vibhu says I dont like rain it irritate. Angoori says I love raining I love to get wet in rain and dance while raining, my mother use to say who didn't like rain his old-age is near. Vibhu says I love rain, its prem who said I don't like rain then I slapped him hard told its beautiful climate and start flirting with her says we will get wet and dance in rain. Angoori says Tiwari is here I want to give him breakfast and run away.
Anu talking on phone with Anjali talking about there life and says I'm lucky because Vibhu is here so my life is easy and asks how's going on with you. Anjali start crying and says my husband is having seriou affairs and I thought I'll leave her after 2 affairs but he grabbed 36 affair yesterday. Anu says now divorce is an only option, he doesn't work at all and doing nonsense work all around. Anjali asks am I doing right. Anu says yes there is no choice then divorce, when he will get notice for divorce then he will realise what he has lost, till then just act like you love him. Vibhu listen everything and run away crying. Anu hungs up phone call, thankgod my Vibhu is not like that.
Tillu and Malkhan standing near tea stall talking yo eachother. Tillu says do have any piece of land where I can open a factory of 1000corer. Malkhan says no I don't have but I have place where you can open factory of 2000corer. Teeka says I'm sorry I have only 1000corer because I cannot carry more cash then that. Malkhan says I don't like cash I like only diamond. Tillu says I have diamond in my shoes, Ill beat you with my shoe and take whatever diamond fell down. Tiwari come and says what nonsense are you doing. Malkhan says nothing we were just goofing around. Tiwari asks did you see Masterji. Tillu says talk of the devil. Devil is here. Masterji come and Tiwari says I'm looking for you there id some issues with my income tax papers and they have seized my account, my order is comming and for that I have to give 2lakh rupees so if you will lend me will return you in 8-10days. Masterji says you are making fun of a poor teacher after asking 2lakh rupees. Tiwari says I know you have sold your ancestral land and yoi got money from that. Masterji says that money is for my daughter wedding. Tiwari says I cannot take from market if they got to know about that they will snatch that order from me. Masterji says when nobody trust you so how you think I'll trust you yes I have money but won't give you and leaves. Tillu and Malkhan laughing. Tillu says now you should come with us. Malkhan says now you will be also like us poor and they both run away. Tiwari says to himself now from where can I get money. Pelu sitting near by gives him chit saying I can help you. Tiwari asks how. He keeps a plate in his hand.
Angoori in kitchen doing work. Vibhu come. Angoori says when did you came and you didn't greet me, what happen to you your face looks dull you are jolly all time what happen to you. Vibhu start crying. Angoori says stop crying. Vibhu says Anu is leaving me according to her I'm unemployed, I don't do any work tell me is that right. Angoori says yes she is right but this is a big decision she's been with you from many years, tell me one thing in this cruel world did she will get a maid who can do all household work. Vibhu says sarcastically thanks for upscaling my mood, and says I wish able to do something and make Anu happy. Angoori says why don't you start business. Vibhu says I have everything for business except money, and start crying. Angoori says stop crying If I would have money I'll give you but now you have only one choice that is to pray. Vibhu says I'll go now and leaves her. Tiwari come to Anu and greets her, says you are drinking coffee. Anu says I'm having green tea. Tiwari says the way you have maintained yourself I think I should also start having green tea and become fit like you. Anu says its not only green tea you have to workout and control your diet which you cannot do. Tiwari says I was not feeling good thought of sharing with you don't think like I'm asking something from you there is one of my friend who needs treatment so from market I took money but only 2lakhs are left, don't know how I'll save his life he got kids too. Anu says I can save your friends life but you are saying that you don't need help and it's about life I have 2laks if you want I can help you. Tiwari says how can I take money from you but its about life and death if you will help you'll get blessings. Anu says he's your friend he will return money correct. Tiwari says its about 2days he will return but I feel shy asking about money. Anu says so you don't want money. Tiwari say its okay so you are giving me money.
Anu in her bedroom reading magazine. Vibhu come and gets romantic with her. Anu says I'm feeling sleepy. Vibhu says but you are reading. Anu says this is my last page. Vibhu says after that we will do romance, yoi don't have idea how much i love you I can do anything for you. Anu says can you touch celing while lie down on bed. Vibhu says what rubbish are you talking. Anu says I'm sleeping don't disturb me and don't talk to me. Vibhu start singing sad song and says to himself its all over everything is finished she doesn't love me anymore I'm a looser.
PreCap
Vibhu come to Angoori says we got business idea it's rainy season so we will sell umbrella in less rate and our business will boom. Vibhu and Angoori singing in rain
Update Credit to: Tanaya
The post Bhabhi Ji Ghar Par Hai 12th July 2021 Written Episode Update : Vibhuti misunderstand Anita appeared first on Telly Updates.