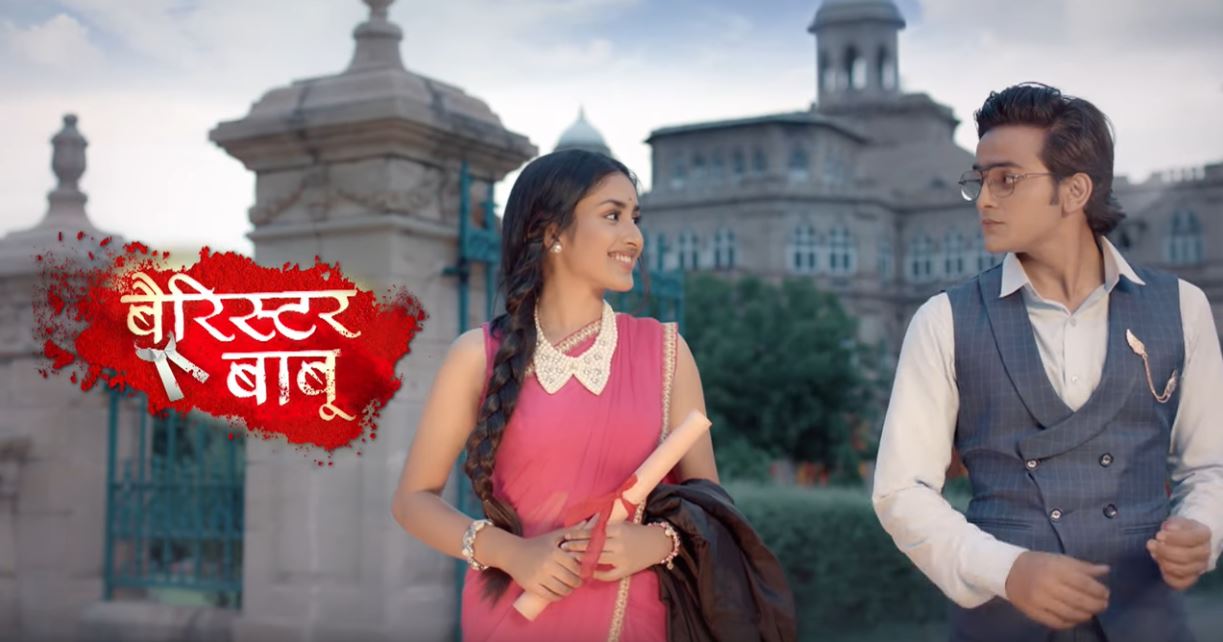 Barrister Babu 21st July 2021 Written Episode, Written Update on TellyUpdates.com
The Episode starts with the kids asking Shashwati to smile. Bondita asks why are you sad. Shashwati says its my birthday. Bondita says you should be happy. Shashwati says we don't celebrate it, Anokhi goes to his office, we don't have any fun. Bondita says we will celebrate and have fun, really. She makes a plan. Trilochan says you will get your gift tomorrow. Shashwati asks do you remember. Anirudh says oh, its your birthday, tell me, what do you want. Shashwati says promise me, you will give me anything you want. He asks do you want a doll or princess dress. She says I want you to be with me in the birthday party, you never come. He says I will arrange grand celebrations, but I won't come. She says I will stay upset and not celebrate, Vaijanti says right, you are a brinjal. Anirudh says enough, did Vaijanti say this. Bondita smiles.
Trilochan asks Sampoorna to give him brinjal dish. Anirudh says we will celebrate tomorrow. Bondita comes to them. Anirudh says you don't need to come. She asks why, I like to enjoy and laugh, I can't stay silent, you will also like it. Anirudh says she means fun. She says you understand me well, I have thought of the name of the game we will play in the party. Anirudh says we don't have to compete. She says its a competition, we will compete, it will be fun. The kids agree. Bondita runs with the kids. Sampoorna smiles. Bondita asks Anirudh did you smile, smile, it increases love in heart, sorry, you will look good when you smile.
Thakumaa says I couldn't talk because of Bondita, I advice you to not separate Chandrachur and Tupur. Chandrachur's mum says I know Tupur is a good wife, he loves her, he can keep two wives, he should get a child. Thakumaa says the second wife will claim her rights and make Tupur a door mat. The lady says if we get a nice girl who treats Tupur as her sister, then they will not have any problem. Thakumaa says I will think about it. Sampoorna and Trilochan do the aarti. She says I think we should get Vaijanti married to Anirudh, she is nice, she takes care of Anirudh. Trilochan says yes, she got scolded and still smiled, Anirudh gets angry on her every day, how will he tolerate her all life. The lady asks are you happy now. Chandrachur says yes, now Tupur will convince Bondita for marriage. Tapur says Tupur is crying in her room, she didn't have food. Tupur asks Bondita to leave. Bondita insists her and asks her to have food. She says Chandrachur loves you, if you don't eat food, then he will be upset. She feeds the food to her. Thakumaa looks on and smiles.
Bondita comes to haveli. She asks Bihari to make more decorations, there is less time. Bondita laughs hearing Trilochan shout on Bihari. Bihari and his wife get tired of working. He misses Bondita and cries. Bondita asks what are you doing here, you go and get ready, you look tired, I will do the work. She does arrangements. Sampoorna asks did you leave any work for us. Bondita says yes, you have to smile and laugh from your heart all day, can you do this. Sampoorna says yes. Bondita says Anirudh also has to smile today. Sampoorna says I wish so, don't get Rasgullas in front of him. Bondita recalls the childhood and gets the Rasgullas. She says this will bring back Anirudh's smile. Anirudh asks Shashwati to cut the cake. She asks where is Vaijanti. He says she is so careless, she didn't come. Bondita gets Binoy there. Binoy likes the decorations and cake. Somnath asks why did she get dad here, she knows he isn't well. Trilochan stops him. They make Binoy sit. Bondita asks Shashwati is she happy. Shashwati says dad came in my party for the first time. Bondita says I told you, entire family will be there in your birthday party, cut the cake, else Anirudh will get angry. Binoy shouts. Anirudh says no one will get angry. Shashwati cuts the cake. Shashwati goes to Binoy. Anirudh calms him down.
Sampoorna takes Binoy. Shashwati gets sad. She says we will have a competition now. She explains the game. Anirudh says I won't come. Shashwati says I knew it, he won't come. Bondita says see my magic now, girls will win. She hits the ball at Anirudh. She says sorry. Everyone plays and enjoys. The girls win. The boys ask Anirudh to see, the girls are teasing, help them. Bondita says no one can defeat me. Anirudh says you mean, no one can defeat you. Bondita says you understand me well. He says yes, I understand you well, I know you are going to lose. She asks who will defeat me, these kids, no. He says yes, these kids aren't alone now. She asks who is with them, Lord. He says yes, and also me, boys will win. Chandrachur's man hears the men talking about Anirudh and Vaijanti. He goes to see. He says she is Bondita. Anirudh gets the ball, but doesn't hit. He sees Shashwati happy. He thinks she will get sad if she loses. Bondita wins. The man says it means Bondita is Vaijanti, I have to tell this to Chandrachur, I have to go to Krishnanagar somehow. He goes. Bondita thinks I will convince Anirudh to admit his feelings for Bondita soon.

Precap will be added later
Update Credit to: Amena
The post Barrister Babu 21st July 2021 Written Episode Update: Bondita celebrates Shashwati's birthday appeared first on Telly Updates.