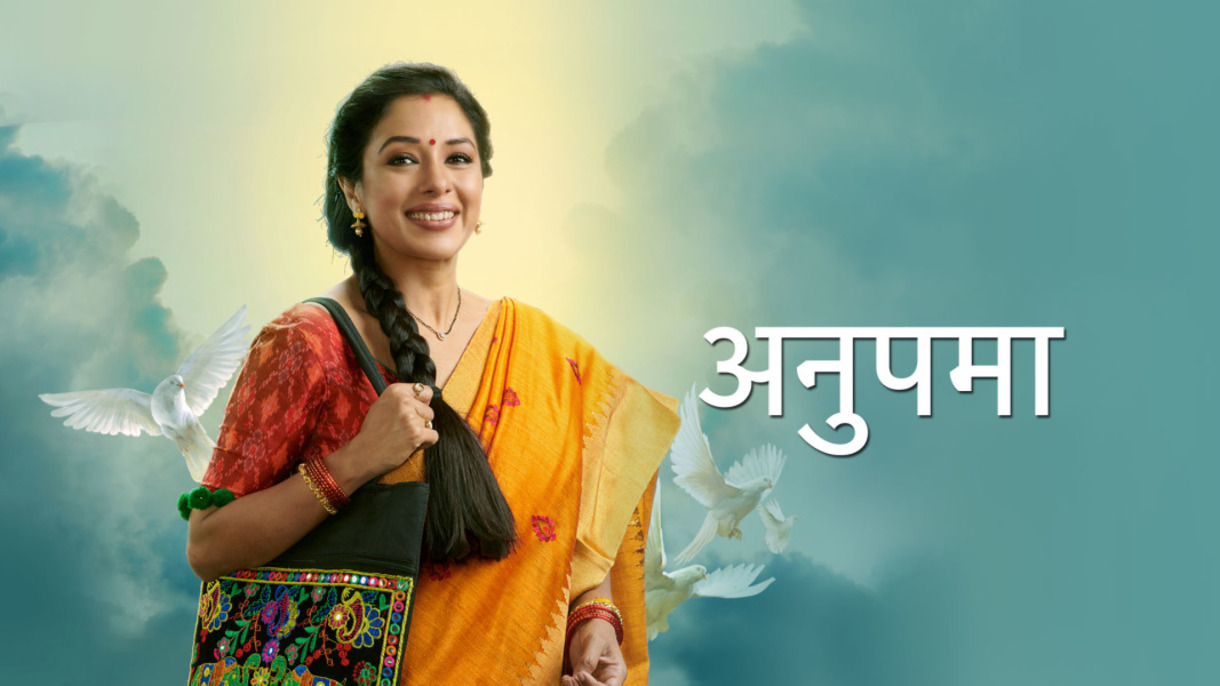 Anupama 13th July 2021 Written Episode, Written Update on TellyUpdates.com
Kavya selects a song for her school event dance performance and plays it for Anu. Anu says she knows this song as she heard it in radio yesterday and asks if she wants to rehearse on it. Kavya asks her to rest first as she came home just now and thanks her for supporting papa/Vanraj; says she is young but can understand problems, she felt good when papa smiled yesterday; she is also happy that she is staying at home as she is happy that she is staying with her both parents even after divorce and hopes papa stays peacefully with Kavya without any fight and his all dreams come true. Anu says why not when his whole family is with him. Pakhi asks her to rest and leaves. Kavya thinks though her and Vanraj's relationship broke, she wants Vanraj and children's bonding to be strong forever.
After sometime, Anu serves tea for family. Baa asks her to join them. Kinjal asks Baa if Toshu didn't return yet. Mamaji asks who is Toshu. Baa scolds him. Toshu enters with Rakhi. Mamaji jokes again. Baa asks her to come on 22nd August on rakhi day and not spoil their happiness now. Rakhi says she doesn't like jokes. Baa says she doesn't like her. Kinjal asks Rakhi why did she come. Rakhi says she came to talk and informs that she has transferred her pent house in Toshu and Kinjal's name. Baa asks Kinjal if they are shifting. Kinjal says not yet decided. Toshu says they have. Vanraj asks Anu if she knew about it. Kavya reacts next, but Vanraj shuts her mouth. Anu says she heard Kinjal and Rakhi's conversation and said its better to stay way from family happily instead of staying unhappy together. Baa says she divided the house and wants to divide the family. Anu says it doesn't matter what we think, only children's happiness matters. Kinjal and Toshu's argument starts. Kavya asks Vanraj to show his hold on his children and order them to shut up. Vanraj says even we do same. Anu asks Kinjal and Toshu to go and discuss in their room and not openly in front of everyone. Vanraj asks Toshu why did he take such a big decision without consulting him. Kavya says its Toshu's MIL's idea. Rakhi says when Kinjal's MIL doesn't think of anyone, at least she has to think about Toshu and Kinjal. Kavya says she is selfish. Rakhi say that is Kavya's forte. Bapuji suggests that everyone has right to stay the way they like. Rakhi asks till when they will follow the joint family rule and not let youngsters stay on their own. Vanraj says he never wants to go away from Bapuji. Toshu says there is a generation gap between them, he respect papa's hard work and sacrifice, but cannot become like him.
Samar says he is overreacting. Toshu says he learnt it from his family and says divorce was considered wrong in our house, but their parents divorced and when they can stay separately, why can't we stay separately from family; we love family and they can visit each other often. Baa says this house is big enough to accommodate them all. Toshu says its filling and he doesn't find any privacy at all, Kinjal is busy in office whole day and in kitchen at home, whole day Baa's TV volume is high, Baa and Bapuji's jokes, Kavya's drama, and now Mamaji joined them; he is tired of daily drama and needs some peace; he loves them all, but feels suffocated in this house. Anu asks him to stop. Rakhi says he said right. Anu says his way of expression is wrong, how will Toshu feel if Samar complains he lost his privacy with Kinjal's entry; he can go away peacefully instead of fighting, she didn't know he and Kinjal have so many problems in this house. Kinjal says lets discuss this issue some other time. Anu says it should end it today or else it will continue each day, etc.
Mamaji says he will leave the house if they have a problem with him. Bapuji scolds him not to say that as he stays in their heart and not home; says if Toshu and Kinjal have decided, they are free to leave. Vanraj asks how an they. Bapuji says when the heart is out, they cannot hold the body at home, so let Toshu go if he wants to. Rakhi says if they have decided. Kinjal says they haven't yet. Rakhi says they should check the flat to decide and says lets go. Kinjal and Toshu follow her. Anu cries and imagines them leaving the house. Baa consoles her and says she can understand how it feels when a son leaves home. Anu says they have just gone to check the house and let us see when they really leave the house. Vanraj says how can they let his son leave the house. Anu says its better to live under different roofs peacefully than live under same roof unhappy with a tarnished relationship. Vanraj says she is right. Mamaji jokes. Samar says when they have gone to check house, let us all go to karkhana/factory and checks its decor. Pakhi says she has project and Kavya says she is not in a mood. Vanraj tells Kavya that he needs her suggestion. She says some other time. Family goes to get ready. Vanraj tells Anu that Rakhi took away Toshu once and once again may take him away. Anu says Toshu is not a kid to be taken away, he can take his own decisions, let us go and check their dream place.
Precap: Pakhi waits for Anu for dance practice.
Kavya brainwashes her that Samar is Anu's first priority and Pakhi's number comes even after Nandini. Anu fails to call Pakhi due to network issue.
Update Credit to: MA
The post Anupama 13th July 2021 Written Episode Update: Toshu's Outrageous Demand appeared first on Telly Updates.